History
Although love of fine arts and culture was the defining mark of Shajahan's reign of the Mogul empire, it is a strange irony of family history that he could beget a son who would sew the seeds of destruction to an empire renowned for its political unity and cultural integrity. After fifty years of rule, Aurangzeb left the Mogul empire fragmented and without central control. As a result his descendants found themselves in a continual battle amongst each other for ultimate authority. The Mogul Empire would never be the same.
In 1712 Aurangzeb's grandson Jahandar Shah ascended the throne in Delhi. After a very short reign, his cousin brother Farukshiar chased him from the royal seat. Jahandar Shah gathered his friends, servants and court musicians, fled the Red Fort in Delhi, and moved to Varanasi. Amongst his entourage of musicians were two brothers
Makku and Juggu Khan
, grandsons of the dhrupad singer Nayak Dhondu, a renowned court musician during the reign of Shahjahan (1628-1658).
Jahandar Shah gifted some property to Makku and Juggu Khan.The two brothers settled into this location on the border of the Ganges and assumed responsibility for maintaining their family lineage of music. This bloodline entitlement was typical of all the musicians of the time and continued to be the method of passing on knowledge right into the twentieth century. Musicians of this time treated their music as a family inheritance and treasure and did not easily bequeath their estate to those outside the clan.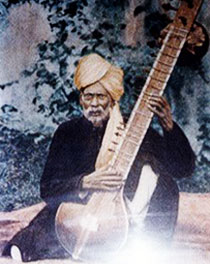 Juggu Khan's descendants all became musicians by birth. His great grandson Sadiq Ali Khan continued the tradition but died prematurely when his own son Ashiq Ali Khan was still a child. Sadiq Ali Khan's cousin brother Waras Ali filled the void to facilitate Ashiq Ali's training.
Waras Ali Khan
was a third generation descendant of Makku Khan. He learned dhrupad singing through his family lineage. He also learned veena from one of the great players of the nineteenth century, Bade Mohammed Khan. Although Waras Ali was not his proper son, Bade Mohammed adopted him as a son so that he could teach him the veena. It was a widely held belief at the time that to teach anyone the veena but one's own son could lead to misfortune and disease. In order to avoid this curse, the great ustads would adopt those male children with fortunate capacity and talent and give them the necessary instruction. Waras Ali Khan taught the veena to his own adopted son but not to his nephew Ashiq Ali Khan. Instead of the veena, Waras Ali decided to teach Ashiq Ali Khan the
Surbahar
, using the special right hand technique of the veena. This technique requires the use of two plectrums. Due to the way one sits with the
Surbahar
and the angle at which the right hand rests upon the instrument, it is necessary to use three plectrums in order to play the veena stroking patterns on the
Surbahar
.
Ashiq Ali Khan became an extraordinary
Surbahar
player and was invited to play at the courts and homes of numerous patrons. He would have only played
Surbahar
had it not been for the timely arrival in Varanasi of the renowned sitar player from Mysore Ustad Barkatullah Khan.
Barkatullah Khan
had received his training from Amrit Sen, the famous Jaipur Senia sitar player and grandson of
Maseet Sen
. Click to read about
Maseet Sen
and Maseetkhani.
When Barkatullah Khan arrived in Varanasi and met Ashiq Ali, he was eager to hear his
Surbahar
playing. Undoubtedly impressed by his demonstration and sincerity as a great musician, he invited Ashiq Ali to accompany him to Kathmandu where Barkatullah Khan was a favorite of the King. Ashiq Ali agreed and so it was that his sitar instruction began and the great legacy of
Maseet Sen
fell into the ears of Ashiq Ali Khan. At this point Ashiq Ali Khan became the beneficiary not only of his blood lineage dating back to the time of Nayak Dhondu, but also of the Senia lineage of Sitar. Although there is no recording of Ashiq Ali Khan existing, the older connoisseurs of Indian music have always attested to his great knowledge and artistry.
One story goes that it was impossible for a listener to hold back tears when Ustad Ashiq Ali played raga Bihag (a sweet evening melody characterized by profound warmth and tenderness). Such a legend could only grow around a musician who had attained a deep realization of inner tonality and feeling.
Ustad Barkatullah Khan did make one recording in the early l900's. It was recorded at a time when tape recorders did not exist. It is provided here for research purposes only. You may listen to this short example of the
Maseetkhani
tradition below.
MUSHTAQ ALI KHAN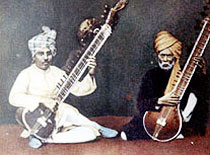 On June 20, 1911 Ashiq Ali Khan's wife gave birth to a son at the very same home in Varanasi that Jahandar Shah had given to Makku and Juggu Khan a hundred years earlier. They named him Mushtaq Ali and he was destined from childhood to inherit his father's musical treasury. At the age of six his lessons began and within a short time he adapted the technique of sitar. Over a period of several years, his training evolved into a 14 hour-a-day practice routine. Beginning at 4 a.m., Ashiq Ali would wake his son, put his hands in cold water and strap one kilo of lead around each wrist. Mushtaq Ali Khan would then have to perform one thousand scales repeatedly while his father counted. If there were even the smallest mistake, the count would begin again.
Ashiq Ali Khan was around fifty-five years old when his son was born. Undoubtedly, he was eager to teach him and pass on his knowledge quickly. At the age of twelve, Mushtaq Ali began his study of the
Surbahar
. Although Mushtaq Ali Khan was destined to be a sitar and
Surbahar
player, his father insisted that he study all aspects of traditional Indian music. He learned the Dhrupad compositions of his own family lineage that originated with Nayak Dhondu as well as many khayals, tappas, and thumris. He took an extensive training in pakhawaj, the two-sided hand drum used to accompany dhrupad, veena, and
Surbahar
. He also became a skilled tabla player.
During the early l900's outstanding artists were still being patronized by maharajas. Ustad Mushtaq Ali Khan entered the court of Jaunpur in Uttar Pradesh for a short period, but he found court life restrictive and realized that his musical goals could not be accomplished in such an environment.
In l929 Mushtaq Ali Khan moved to Calcutta. He became an instant success. Highly acclaimed at the Allahabad Music Conference in l931, he began to receive invitations to play throughout India. He was one of the first artists to play on All India Radio and continued to record for them until the very end of his life.
Throughout his musical career, Ustadji gave interviews, lecture demonstrations, seminars and performances at universities, educational institutions, and radio and television stations. He captivated and charmed his audiences with his knowledge and clear explanation of the various aspects of his music.
He was an independent thinker and never compromised his ideals for wealth or fame. Contemporary musicians and scholars who knew him respected him as a "musicians musician" and admired him for his genuine purity as a musician as well as a human being. Many of his peers remarked that Khansahib sacrificed his own welfare and benefit for the purity of his musical tradition.
The great sarode maestro Buddhadev Das Gupta commented," the Ustad was a firm believer in tradition and up to his last performance, never departed an inch from his principles, stubbornly refusing to compromise his ideals for the sake of easy popularity."
In regard to the characteristic quality of Ustad Mushtaq Ali Khan's music, here are quotes from some notable musicians of his time.
Sunil Bose, vocalist and resident of the Sangeet Research Academy, wrote: "it was not only pedigree or the association with the heredit y of Nayak Dhondu and the Senia Gharana, but also Khan Sahib's own internalization of the values of classicism and traditions which marked him out as a true Ustad (master) in the old world mould. Simplicity and elegance marked Khan Sahib's music and approach to performance. This simplicity was born not out of an abhorrence for complexity, but from the realization that the pristine purity of raga embodied the true ethos of Indian classical music, and this pristine purity is manifested not through jugglery of contours of these ancient matrices, but by the beauty of structure. Intellectualism in musical performance comprises the exposition of the raga personality with mastery in which the Baaj (playing technique and style ) never eclipses the rasa ( inner mood and feelings) of the Raga. This fundamental truth about Indian classical music was the focal point of Khan Sahib's musical philosophy."
Ustad Nissar Hussein Khan commented, Mushtaq Ali "was a Guni Kalakar (an artist with great knowledge ) who had received proper instruction and maintained Raag ka dharam (the truth of the raga's nature ) which creates the inexplicable rasa (inner feeling beyond concept ).
Tejpal and Surinder Singh wrote "Ustad Mushtaq Ali Khan was no ordinary musician. He had learned his art with devotion, practiced it with dedication and performed it with a sincerity that never sought to impress but always (illustrated) the beauty and vitality of Indian classical music in its pristine glory."
He performed numerous times with the renowned Vilayat Khan in private soirees arranged in the homes of wealthy Calcutta music lovers. Although they both played very fast in those days, listeners commented that no matter how fast Mushtaq Ali played, he always seemed to be massaging the notes with his left hand, never losing sight of the raga's beauty.
He never let jealousy or competitiveness interfere with his quest for maintaining the truth of Indian classical music. He arranged music concerts for his peers and promising artists of his time. In fact he presented for the first time Pundit Ravi Shankar to the Calcutta music scene and highly appraised his performance.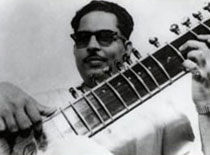 He helped poor and disabled artists and started a hospital fund for artists who could not afford inpatient care.
Although Mushtaq Ali Khan was a Mohammedan by birth, he always hosted the Devi Saraswati puja at his home in Calcutta. After the traditional offering and empowering of the instruments; Ustadji, taking the devi as witness, would perform the raga shuddha vasant on his
Surbahar
. In the evening his disciples would play. During the l940's and l950's Ustadji organized all night functions in which other notable musicians performed.
Other ustads frequently visited with Mushtaq Ali Khan. It was common that they would gather together for hours and discuss the intricacies of melodic form with skill, knowledge and mutual respect. This kind of communication was a method of cultivating knowledge and Khansaheb never hesitated to invite other masters into this circle to share their insights and traditional bandishes ( compositions ). Ustad Faiyaz Khan, Ustad Hafiz Ali Khan, Pandit Tansen Pande, Ustad Umar Khan, Pandit Dilip Chandra Vedi, Pandit D.T. Joshi, Ustad Rahimmudin Khan Dagar, Pandit Ramu Misra, Ustad Asad Ali Khan, and Ustad Fahimuddin Dagar were just a few of the musicians who illuminated those meetings. Nowadays such meetings would be almost impossible. Unfortunately, the honorable respect that past ustads shared with each other hardly remains.
Ustadji made one recording in l934 of Ragas Adana and Bhairavi. It was not until after his death that All India Radio released on cassette one of his numerous national programs. Raga Mian ki Malhar is presented with Alap, Maseetkhani and
Rezakhani
compositions.
Although Khansahib had inherited a wealth of Maseetkhani compositions, he preferred to play a style of composition based on the rhythmic patterning of
Ustad Ghulam Reza Khan
. This type of composition is commonly referred to as
Rezakhani
.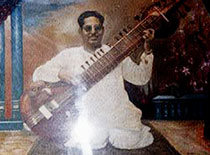 Mushtaq Ali Khan composed hundreds of
Rezakhani
compositions. His greatest contribution to the classical tradition of Indian music was the way in which he blended the intricate melodic movements of the Maseetkhani style into the patterns of the medium and high tempoed
Rezakhani
form. Furthermore, in his melodic improvisations based upon the form of the composition (gatkari), he always maintained the right hand stroking patterns upon which Maseetkhani and
Rezakhani
compositions were based. You may now listen to an example of Mushtaq Ali Khan's
Rezakhani
composition based upon an original
Maseetkhani
composition.
The Maseetkhani composition in the raga Deshkar is played first followed by Mushtaq Ali Khan's faster
Rezakhani
composition.
Ustad Mushtaq Ali Khan received numerous awards and titles during his life. Amongst the most prestigious were the Tansen Award from Gwalior, and the Academy Awards from the Sangeet Research Academy in Calcutta, and the Sangeet Natak Academy in New Delhi. Unfortunately, the central government of India failed to recognize Mushtaq Ali Khan's genius and contribution to Indian music. Numerous artists who cannot compare with him have received the titles of Padma Shree and Padma Bhushan, etc. The reasons for this misunderstanding and neglect are many, but as so often happens in India, the knowledge of the silent ones is overlooked for the voices of artists recognized by the massive populace. In any case Ustad Mushtaq Ali Khan recognized the internal significance of the ancient heritage of Indian music and illustrated that in one of his dohas:
Swar hai Ishwar
Lai hai jnan
Tan hi path hai
Roop hai dhyan
The meaning is this:
The self-arisen musical notes are tonal symbols of the deity.
Their movement is wisdom
The way is through the ( central channel ) of the body
The result is the contemplation of the melodic matrix.
Mushtaq Ali Khan passed away on July 20, 1989 in Calcutta.